Evolution Cycle - Essentials Kit
Evolution Cycle
-
Essentials Kit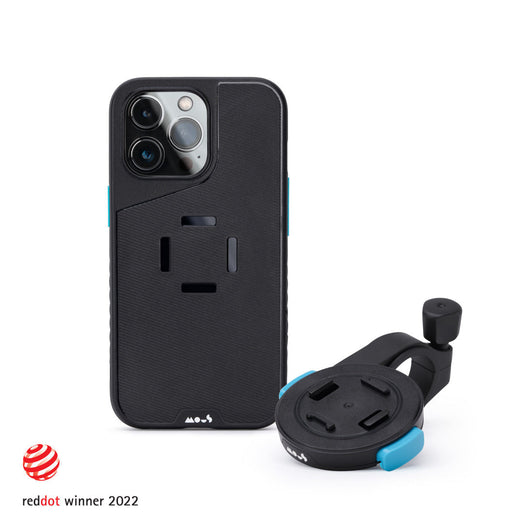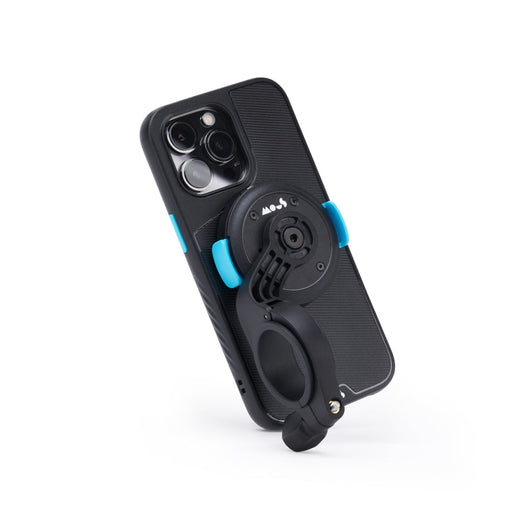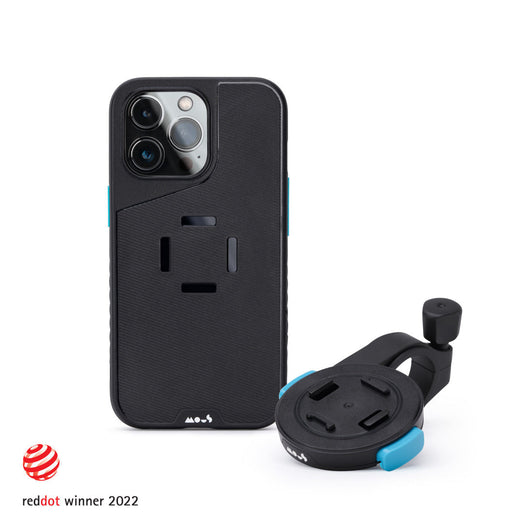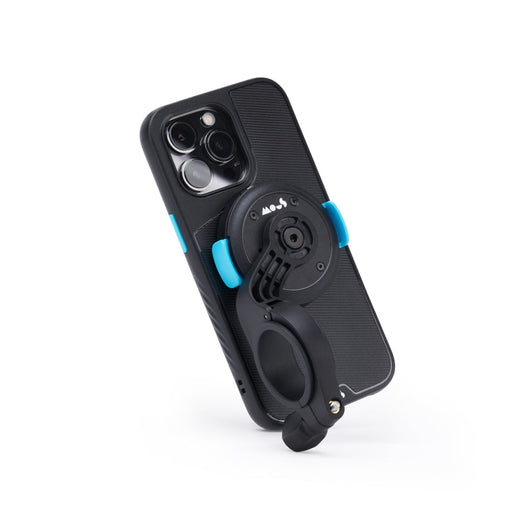 Variant
Evolution

This Red Dot product design award winning case combines mechanical mounting technology, IntraLock™, MagSafe® compatibility and Mous-grade protection.

IntraLock bike mount

Mount your phone to your bike safely, securely and easily with IntraLock™ mechanical mounting technology.
Mount your phone to your bike safely and securely
Evolution and the bike mount contain IntraLock™ technology, our first mechanical mounting tech, designed for an extremely secure connection between your phone and accessories
Evolution is also fully MagSafe® compatible to connect to a world of accessories and chargers
What's in the box

Evolution, IntraLock™ bike mount

Compatibility

Evolution:
Made for use with the iPhone 12, iPhone 12 Pro, iPhone 13, iPhone 13 mini, iPhone 13 Pro, iPhone 13 Pro Max, iPhone 14, iPhone 14 Pro, iPhone 14 Plus and iPhone 14 Pro Max
Google Pixel 7 Pro, Pixel 7
Designed for use with all Mous, Apple and third party MagSafe® compatible products
Designed for use with IntraLock™ accessories
Compatible with Apple's MagSafe® Charger; may not be compatible with all third-party wireless chargers
ROHS and REACH compliant

GOOGLE PIXEL 7 and PIXEL 7 PRO ONLY:
This product has been certified by Mous to meet Google's compatibility standards. Google is not responsible for the operation of this product or its compliance with any applicable safety or other requirements. Learn more at g.co/madeforgoogle.

IntraLock™ Bike Mount:
Made for use with the Mous Evolution case
Designed for bicycle handlebars of diameters 35.6, 31.8, 25.4 and 22.2mm
ROHS and REACH compliant

Dimensions

Evolution:
iPhone 12 / iPhone 12 Pro (6.1") - L: 152.5mm; W: 78.3mm; H:11.7mm; 40g
iPhone 13 (6.1") - L: 152.5mm; W: 78.3mm; H: 12.4mm; 40g
iPhone 13 mini (5.4") - L: 137.3mm; W: 71mm; H: 12.3mm; 35g
iPhone 13 Pro (6.1") - L: 152.5mm; W: 78.3mm; H: 13.4mm; 41g
iPhone 13 Pro Max (6.7) - 166.6mm; W: 84.9mm; H: 13.5mm; 54g
iPhone 14 / iPhone 14 Pro (6.1") - TBC
iPhone 14 Plus / iPhone 14 Pro Max(6.7") - TBC
Google Pixel 7 Pro/ Pixel 7 - TBC

IntraLock™ Bike Mount:
L: 119.09; W: 72.24; H: 56.44mm; 80.61g

For more detailed specifications, take a look at the individual product pages.
Do I need to remove Evolution to charge wirelessly?

No you don't! We've designed Evolution to be super slim and the IntraLock™ mounting technology adds no additional bulk so you can still get a flawless, perfectly optimised MagSafe® charge.

Will this mount fit my bike?

We've designed this mount to fit all the most common handlebar sizes. The bracket on the mount is 35.6mm in diameter, and it comes with spacers which are 31.8, 25.4 and 22.2mm. These should fit all the most common handlebar sizes.

Are these products waterproof?

This case and mount are ready to go wherever your phone is. While they're both made with waterproof materials, they won't provide any extra waterproofing for your phone.
Explore more. Become more.
IntraLock™ Tech

MagSafe® Compatible Magnetic Tech

Cycling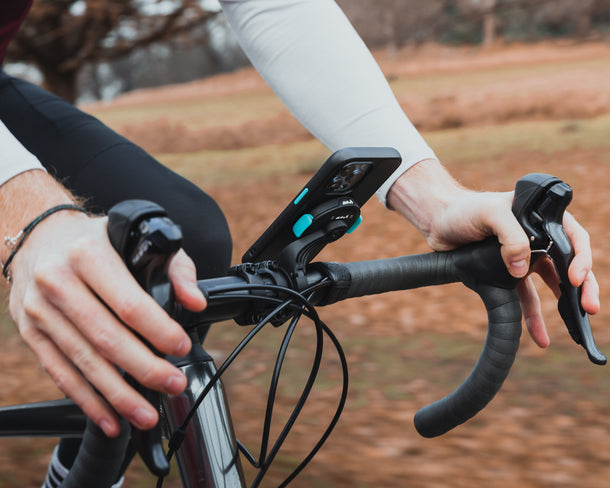 Are You Ready?
These are the essentials for secure phone mounting on your bike with IntraLock™ technology. Track your stats, follow maps and listen to music on even your most extreme routes.
Evolution
Evolution merges ultimate mechanical mounting with unhindered MagSafe® compatibility and Mous-grade protection. This is the next evolution of the phone case - where will it take you?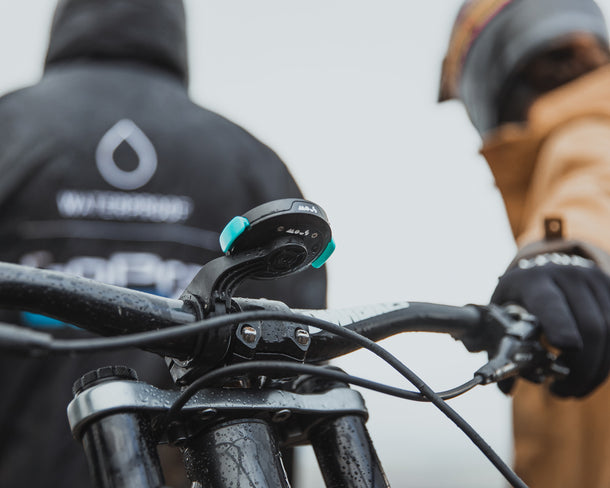 IntraLock™ Bike Mount
Our IntraLock™ Bike Mount enables you to safely and securely affix your Evolution case to your bike for every journey and every adventure.
Get the Best of Both Worlds
We've engineered IntraLock™ to add no additional bulk to Evolution, ensuring it's seamlessly MagSafe® compatible. Evolution allows you to evolve past restrictions and make the most of both magnetic and mechanical add-ons.
"Ground-breaking… really, really good"
"Mous is an innovative company"
"Mous's cases are tougher than the guy from The Revenant who fought a bear"
"[a] favourite brand of ours which provides high quality, rigorously tested phone cases."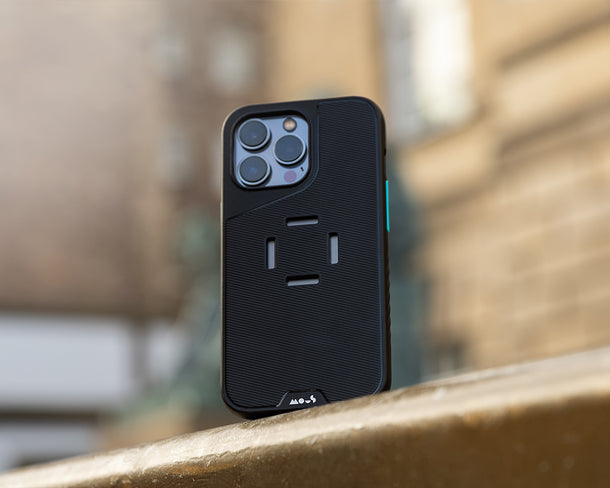 Flat and Slim
IntraLock™ technology's hinged jaws mean no ugly bulges on Evolution and its rugged materials ensure it's ready to go wherever you want to take it. Flat, slim and fit for adventure - no additional weight or bulk added here.
Extreme Protection
Mous-grade protection means impact-absorbing materials, stiff construction and raised lips on the front, back and around the camera for 360 degree protection for your screen, camera and glass back. Keep your plans loose and your case rigid.
Extremely Secure Mechanical Mounting
Do more, worry less - IntraLock™ is engineered with a swinging jaw functionality so you can mount to accessories easily and extremely securely. Whether you're jumping out of a helicopter or off-road biking, this is what maximum security looks like.
From the Mous community
#mouscase