Magsafe® Compatible 3 In 1 Portable Charger
Magsafe® Compatible 3 In 1 Portable Charger
A super-light and compact portable charger for wirelessly charging three devices at the same time. Features a MagSafe
®
compatible charging module, an Apple Watch charging module and a wireless earbuds charging module.
Learn More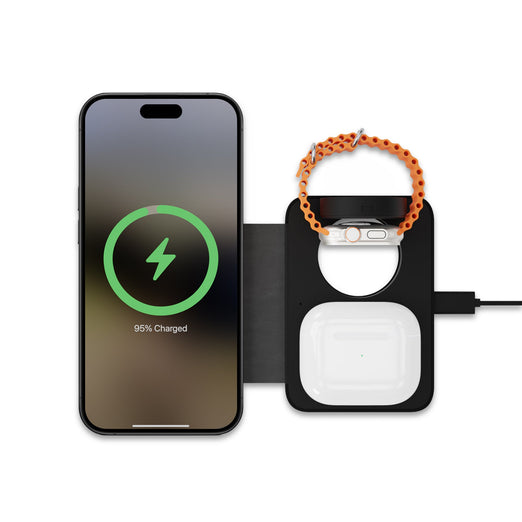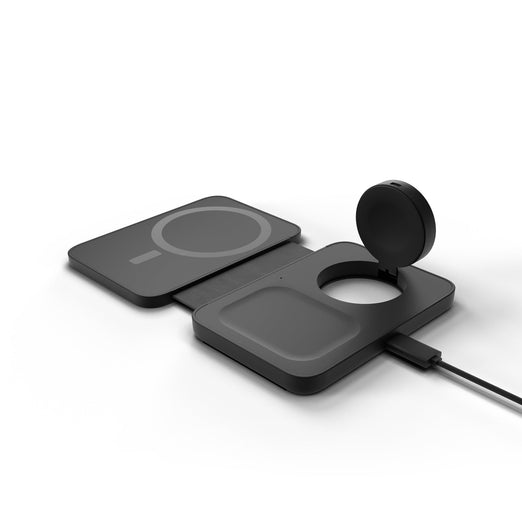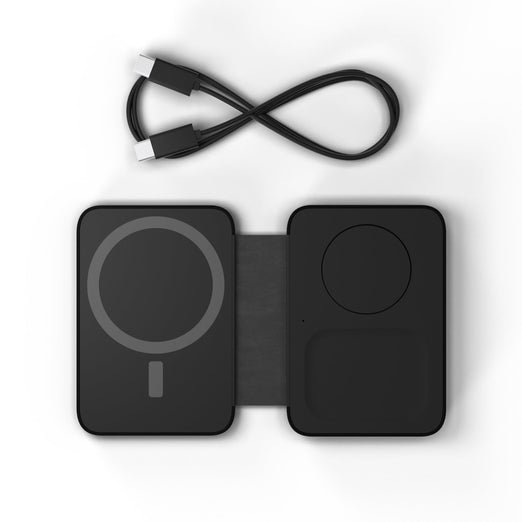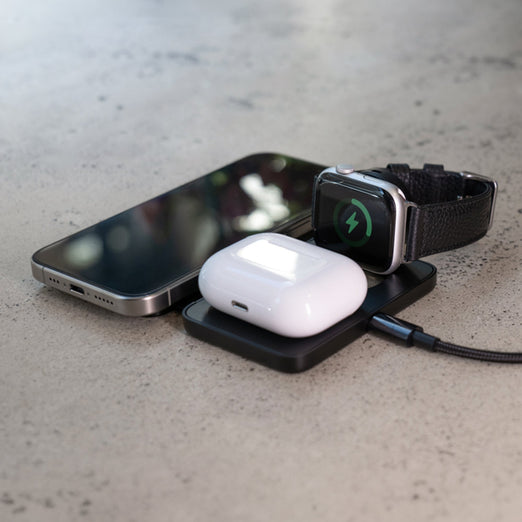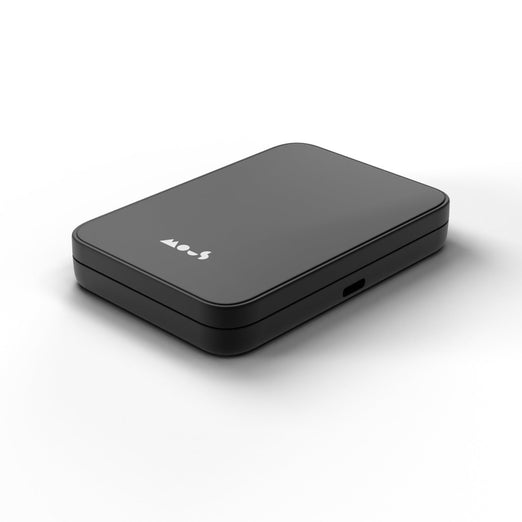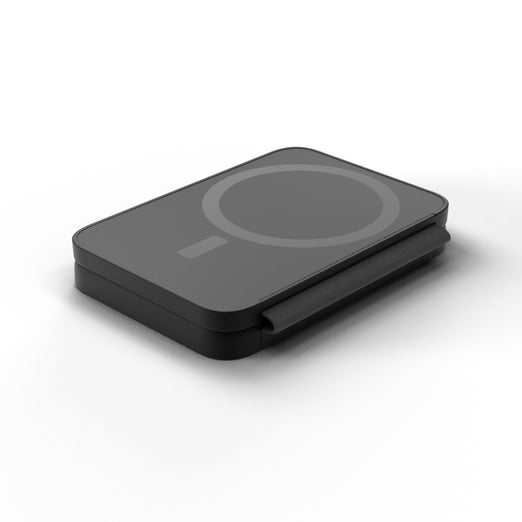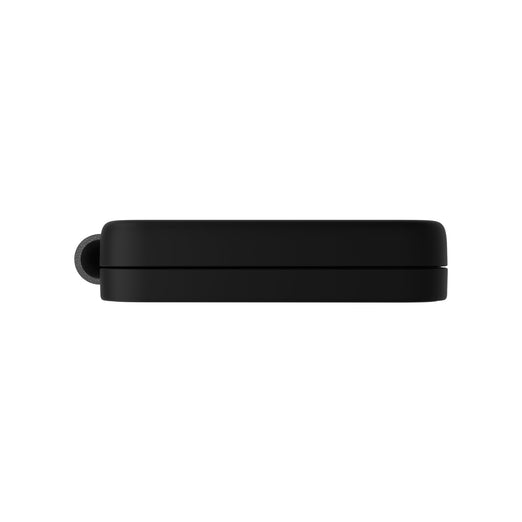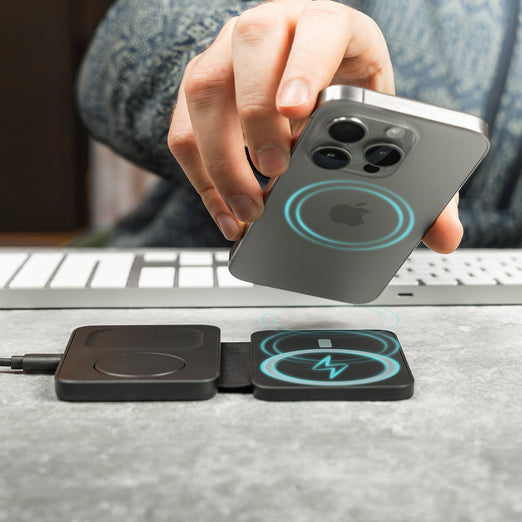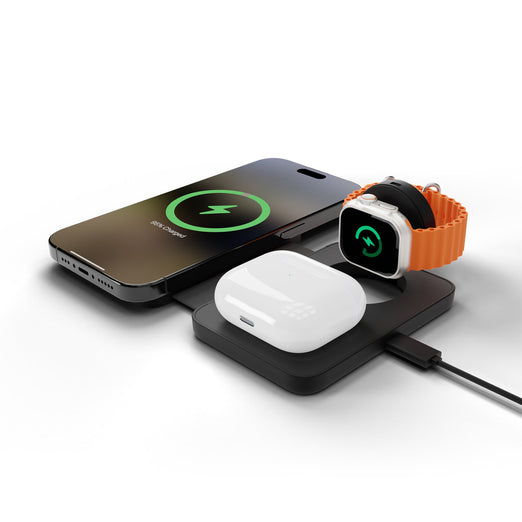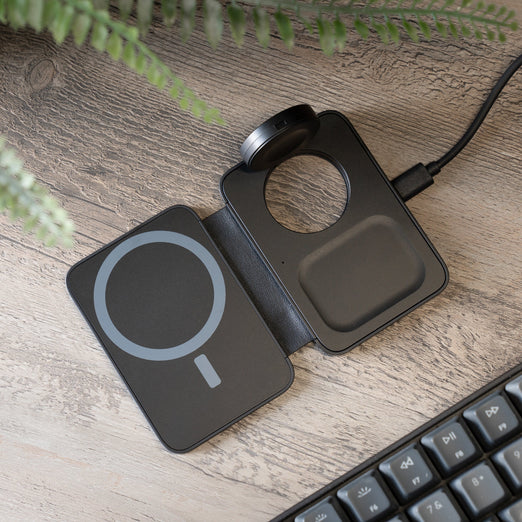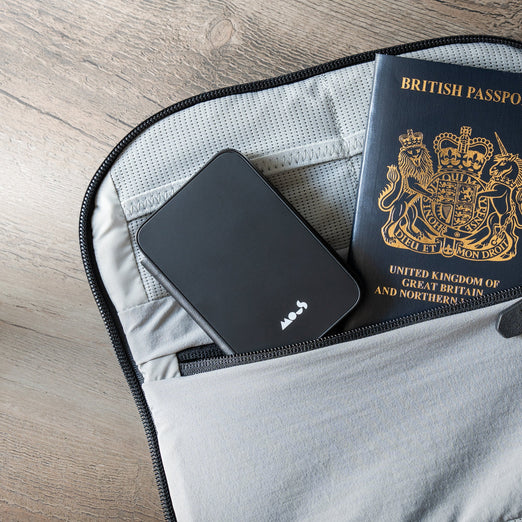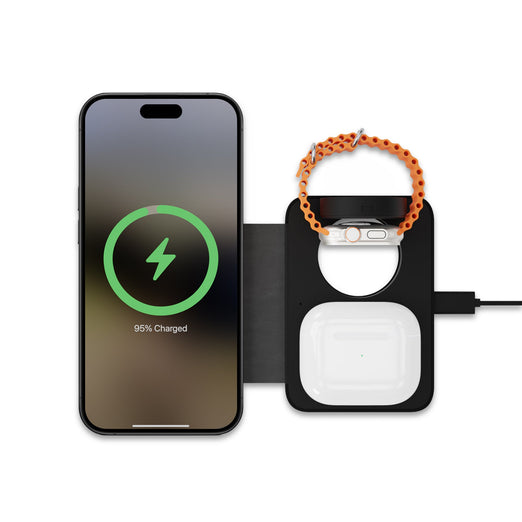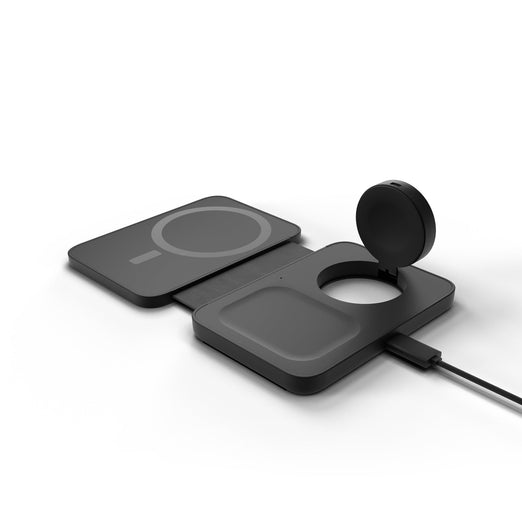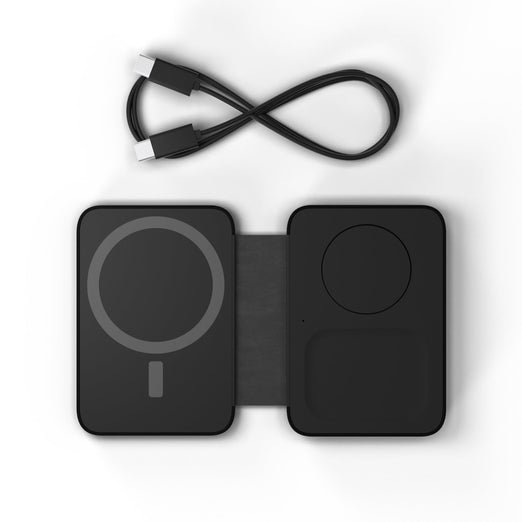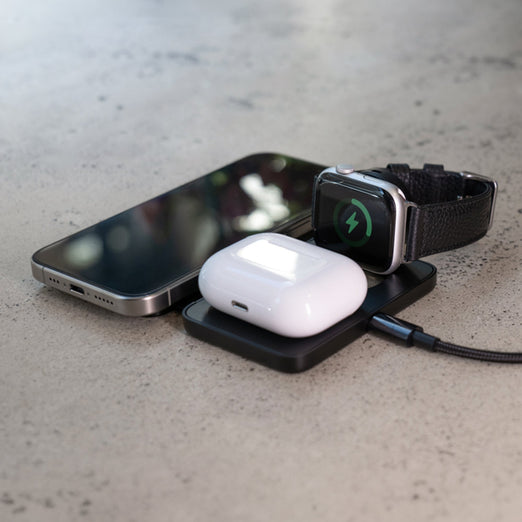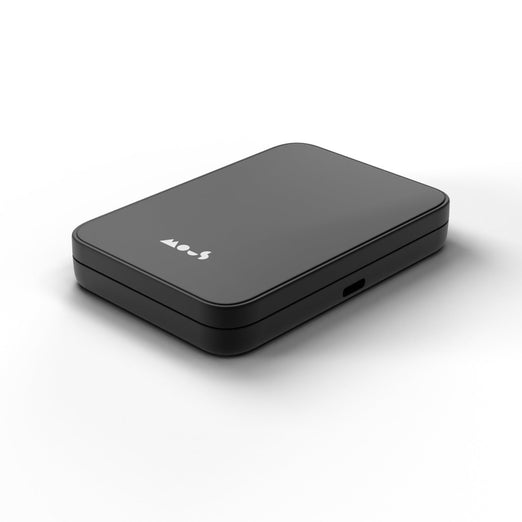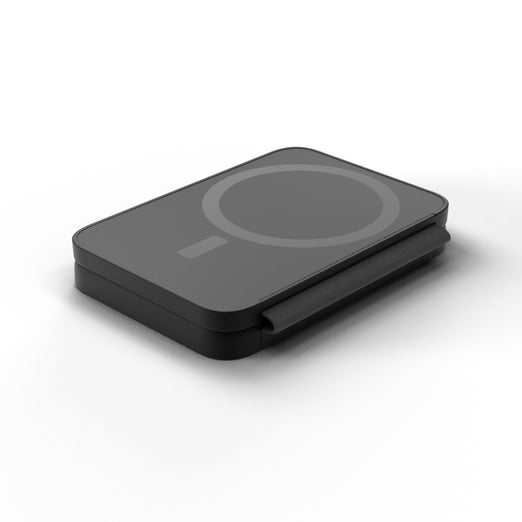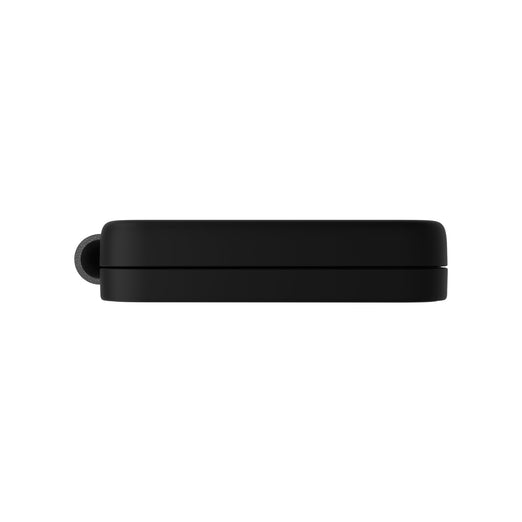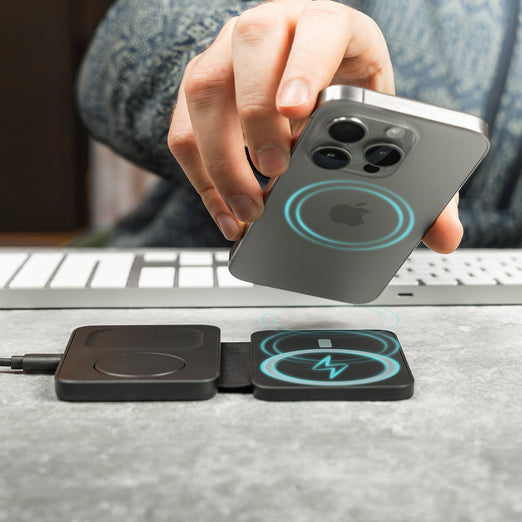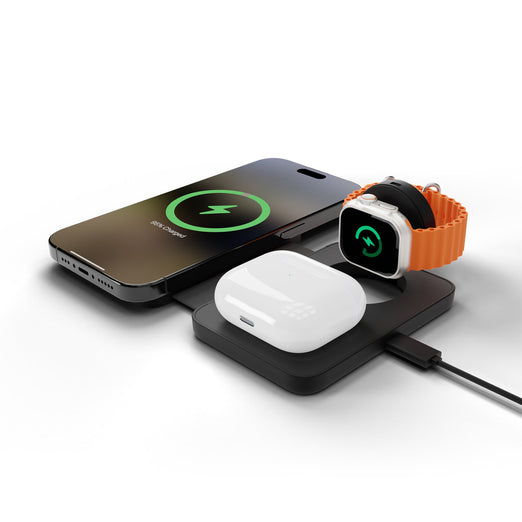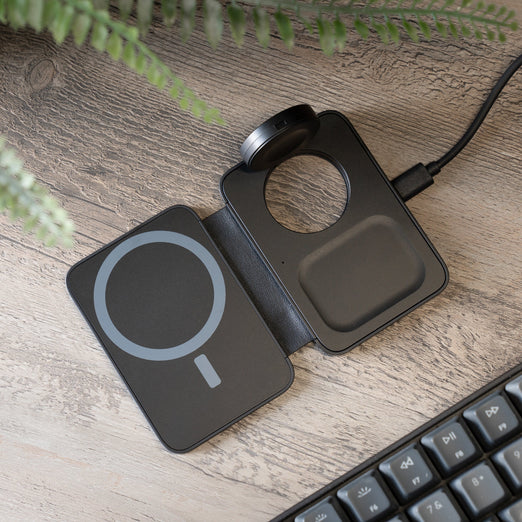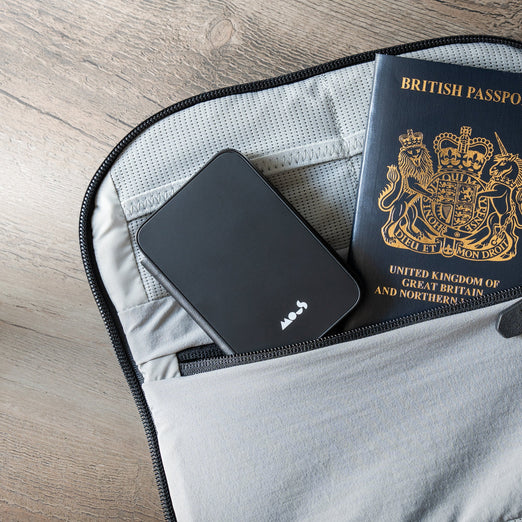 Charge three devices at once. Power up your iPhone, AirPods, and Apple Watch simultaneously with a single USB-C cable (included).
Incredibly light and compact, it's almost the same size as a credit card and weighs just 87g, making it perfect for travel.
It's compatible with iPhone 15, 14, 13, and 12 series, all AirPods and all Apple Watch models.
It also works with phones in MagSafe® compatible cases and other wireless earbuds. See Specs for more.
Built with magnets for precise alignment and a strong connection, ensuring efficient wireless charging.
Accommodates all three devices at once without impacting access to the screen on your phone or Apple Watch. Lift the Apple Watch module to the elevated position to comfortably fit all three devices.
Compatibility

MagSafe® compatible coil:
Compatible with all iPhone 15, 14, 13 and 12 series. 
Compatible with Mous MagSafe® compatible cases.
Supports other devices capable of wireless charging via a MagSafe® compatible case. 

Secondary charging coil:
Compatible with all AirPods with a wireless charging-enabled case.
Compatible with various third-party earbuds capable of wirelessly charging.

Apple Watch charging coil:
Compatible with all Apple Watch models.

Measurements and weight

Folded: L: 90mm x H: 62mm x W: 13.4mm
Unfolded: L: 136mm x H: 90mm x W: 8mm
Weight: 87g

USB-C cable: 1m

Materials

Designed with a MagSafe® compatible magnetic array.
Built with tempered glass and ABS (acrylonitrile, butadiene and styrene).
Faux leather folding hinge.

Warranty

What's in the box

x1 Magsafe® Compatible 3-In-1 Portable Charger
x1 USB-C cable 
Can I use this charger without a MagSafe® enabled iPhone?

You can use this charger with any wireless charging enabled device. However, without a MagSafe® enabled iPhone or MagSafe compatible case, the magnetic connection may not align perfectly, affecting your charge speed optimisation.

Is there a power adaptor included?

Our Magsafe® Compatible 3-In-1 Portable Charger comes with a USB-C to USB-C cable but not a power adaptor. To power our portable charger, you'll need a 30W or higher power adaptor. Don't have one? No problem. We sell 30W power adaptors on our site.

Which charging module do you charge AirPods on?​

If your AirPods or wireless earbuds have wireless charging compatibility then they can be charged on the MagSafe® compatible module or the earbuds module. If you have AirPods Pro (1st Gen or 2nd Gen) or AirPod 3's you can take advantage of the magnetic alignment on the MagSafe® compatible module for efficient charging.
What's great about it
Charge three devices at the same time

Our 3-in-1 portable charger is super versatile – capable of charging your phone, AirPods and Apple Watch all at the same time using just one cable.

Foldable and travel friendly

Our charger is all about portability. It's foldable, incredibly lightweight at just 87g and fits right into your pocket or bag. It's almost the same size as a credit card, making it the perfect travel companion. No need to carry multiple chargers and cables.

Precise magnetic connection

Built with MagSafe® compatible magnets for perfect alignment every time. These magnets guide your devices to the precise spot they need for efficient wireless charging.

Works with more than just iPhone

The MagSafe® compatible module works with other phones in MagSafe compatible cases once the phones support wireless charging. Our earbuds module can wirelessly charge third-party earbuds that support wireless charging.
From the Mous community
#mouscase